| Home |
| Characters |
| Issues |
| Artwork |
| Fans |
| The Author |
---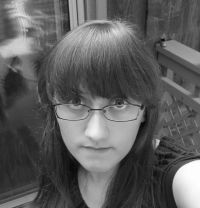 About Me
My name is Jenna Crawford. At the moment, I'm a senior student in Saskatchewan, and am planning to get further into the business of animation and filmmaking. When I was eight, I suddenly had an urge to create a cast of characters and create my own comic strip, and I'm here now. I plan to refine my style further, as I have a dream to become an independant animation director.
My main role model in art is Osamu Tezuka, but I've taken a lot from Leiji Matsumoto and Ralph Bakshi. As far as I can recall, my "loop-eyed" eye style was influenced by 1990's Disney TV cartoons, and the way I design hairstyles was influenced by Naoko Takeuchi.
My favorite animated characters are Spike Spiegel, Kenji Murasame, and R. Ichiro Tanaka.
Cinderelliot wasn't always going to be my debut work. It started as a vague concept that came to me in December 2008, and only in February 2009 did I design the characters. Later in that June, when I was denied for an overseas student exchange trip due to my science grades, I unsuccessfully applied for jobs at four different places. It was then that I considered making and publishing a comic series to utilize the summer. By drawing at least one page every day for two months, Cinderelliot was released into two issues at local retailer 8th Street Books & Comics, and it became a moderate success.
I plan to make more comics in the future, but as always, school impacts this heavily. The following are my other works...
Westbury Detectives
Our Own May Ray
Feather & Fur (discarded)
Lux Lucis (discarded)
Arlo Radcliffe (novel)
Crystalline (novel)
The Girl From Space (children's novel)
...I do have at least fourteen others that have been cancelled or discarded, too. I may put up more information on them for my own amusement.
To everyone who has ever followed along with my work, thank you very much! I hope you'll stay with me into the future!
~Jenna
---
All images and artwork are ©2009-2010 Jenna Crawford, and may not be used without permission.